NFI SKY Boys Team 2023
The Sky Boys Team is the senior men's team of the Nkamanyi Football Initiative. They currently play at the level of the South West Regional League of Cameroon. Find below the squad.
---
---
---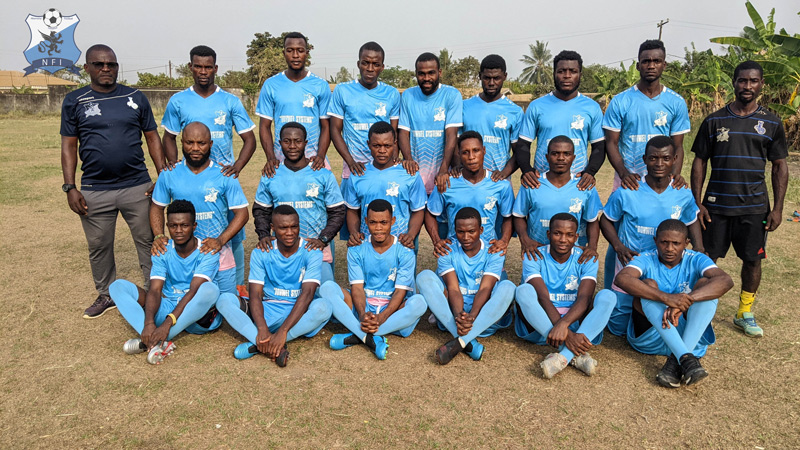 ---
Ndoke Joseph - Head Coach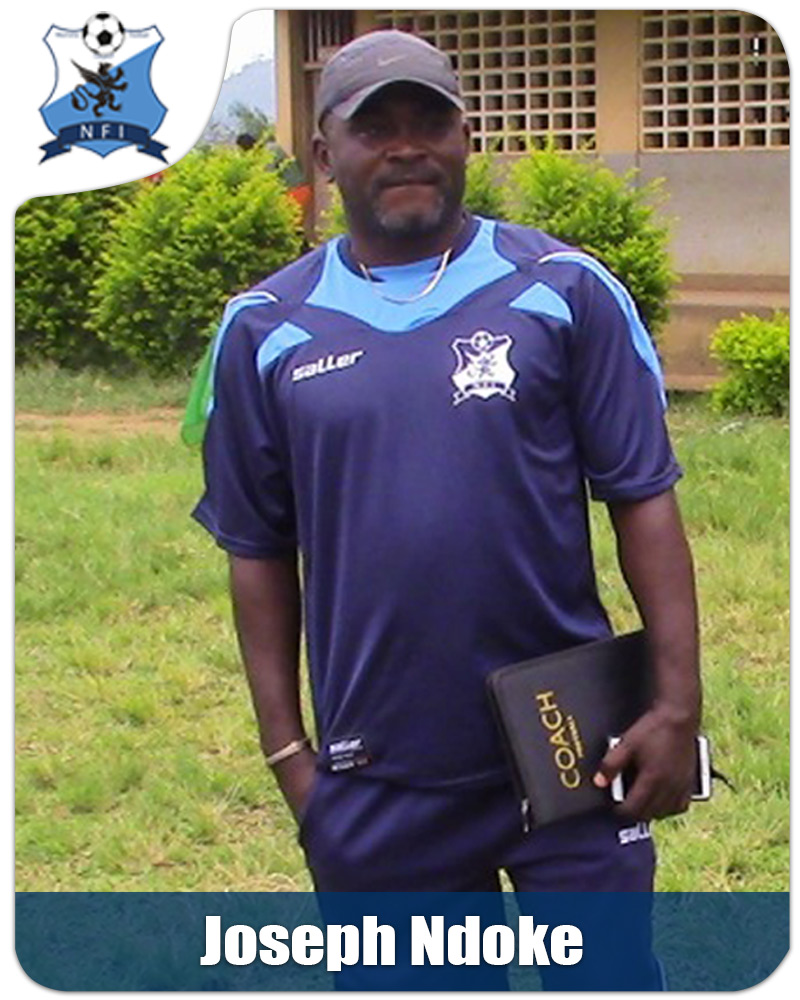 Ashu Tong - Assistant coach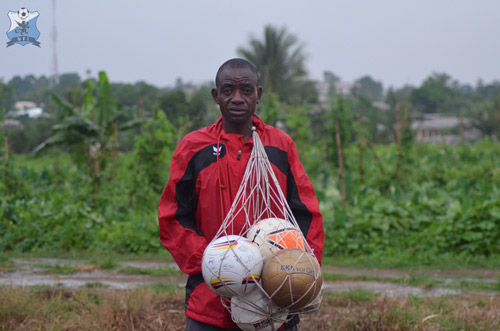 ---
Upcoming games
No past game available this season.
---
Past games
| | | | | |
| --- | --- | --- | --- | --- |
| Competition | Game | Date | Location | Result |
| SW Regional League - Day 14 | Kumba City FC - NFI Sky Boys | 15.06.2023 15:30 | Municipal stadium | 3 - 4 (Details) |
| SW Regional League - Day 13 | NFI Sky Boys - Kumba Lakers FC | 08.06.2023 15:30 | Municipal Stadium | 2 - 2 (Details) |
| SW Regional League - Day 12 | Legend FA - NFI Sky Boys | 04.06.2023 13:30 | GPS Field | 3 - 2 (Details) |
| SW Regional League - Day 11 | Jesus FC - NFI Sky Boys | 31.05.2023 14:00 | GPS Field | 0 - 2 (Details) |
| Cameroon Cup round 4 | ISOHSA Limbe - NFI Sky Boys | 24.05.2023 14:00 | Molyko Stadium, Buea | 3 - 2 (Details) |
| Cameroon Cup Round 3 | NFI Sky Boys - Legend FA | 16.05.2023 15:30 | GPS Field | 5 - 4 (Details) |
| Cameroon Cup Round 2 | NFI Sky Boys - Kumba Lakers FC | 13.05.2023 13:30 | GPS Field | 3 - 0 (Details) |
| Cameroon Cup Round 1 | NFI Sky Boys - Future Dream FC | 06.05.2023 15:30 | GPS Field | 3 - 0 (Details) |
| SW Regional League - Day 10 | NFI Sky Boys - Bright Star FC | 29.04.2023 15:30 | GPS Field | 0 - 0 (Details) |
| SW Regional League Day 9 | NFI Sky Boys - Future Dream FC | 26.04.2023 16:00 | GPS Field | 1 - 2 (Details) |
| SW Regional League Day 8 | NFI Sky Boys - NEMFA Nguti | 22.04.2023 16:00 | GPS Field | 2 - 0 (Details) |
| SW Regional League Day 7 | NFI Sky Boys - Kumba City FC | 16.04.2023 16:00 | GPS Field | 1 - 1 (Details) |
| SW Regional League Day 6 | Kumba Lakers FC - NFI Sky Boys | 13.04.2023 14:00 | GPS Field | 2 - 3 (Details) |
| SW Regional League Day 5 | NFI Sky Boys - Legend FA | 08.04.2023 15:30 | GPS Field | 2 - 2 (Details) |
| SW Regional League Day 4 | NFI Sky Boys - Jesus FC | 02.04.2023 16:00 | GPS Field | 4 - 0 (Details) |
| SW Regional League Day 3 | Bright Stars FC - NFI Sky Boys | 30.03.2023 14:00 | GPS Field | 0 - 0 (Details) |
| SW Regional League Day 2 | NFI Sky Boys - Future Dream FC | 26.03.2023 15:30 | GPS Field | 0 - 0 (Details) |
| SW Regional League Day 1 | NEMFA Nguti - NFI Sky Boys | 16.03.2023 16:00 | GPS Field | 0 - 2 (Details) |
| SKY Boys Friendly | Future Dream FC - NFI Sky Boys | 22.02.2023 09:00 | Bonke Field | 1 - 2 |
| Sky Boys Friendly | NFI Sky Boys - Nemfa FC | 09.02.2023 15:00 | CCAS Kumba Field | 0 - 0 |
| SKY Boys Friendly | NFI Sky Boys - Nemfa FC | 04.02.2023 15:00 | Bunke Field | 1 - 1 |
| Sky Boys Friendly | NFI Sky Boys - River Side Nganjo | 28.01.2023 15:00 | St Francis Field | 1 - 1 |
| Cameroon Cup | NFI Kumba - Kumba City FC | 28.06.2022 15:00 | GPS Field | 4 - 5 |
| Cameroon Cup | Kumba Lakers FC - NFI Sky Boys | 25.06.2022 13:00 | GPS Field Kumba | 3 - 4 |
| Cameroon Cup | NFI Sky Boys - Jesus FC | 22.06.2022 11:00 | GPS Field | 6 - 5 |
| SW Regional League | Kumba City Council FC - NFI Sky Boys | 16.06.2022 15:30 | GPS Field | 2 - 0 |
| SW Regional League | NFI Sky Boys - Nemfa FC Nguti | 11.06.2022 15:30 | GPS Field | 1 - 2 |
| SW Regional League | Future Dream fC - NFI Sky Boys | 02.06.2022 14:00 | GPS Field Kumba | 0 - 1 |
| SW Regional League | NFI Sky Boys - Kumba Lakers FC | 29.05.2022 15:30 | GPS Field Kumba | 0 - 0 |
| SW Regional League | Legend FC - NFI Sky Boys | 25.05.2022 15:00 | GPS Field Kumba | 0 - 0 |
| SW Regional League | NFI Sky Boys - Kumba City Council FC | 15.05.2022 15:30 | GPS Field Kumba | 1 - 0 |
| SW Regional League | Nemfa Academy - NFI Sky Boys | 07.05.2022 13:30 | GPS Field | 1 - 1 |
| SW Regional League | NFI Sky Boys - Future Dream FC | 23.04.2022 13:30 | GPF Field | 2 - 1 |
| SW Regional League | Kumba Lakers FC - NFI Sky Boys | 20.04.2022 15:30 | GPS Field | 1 - 1 |
| SW Regional League | NFI Sky Boys - Legend FC | 16.04.2022 15:30 | GPS Field | 1 - 1 |
| Sky Boys Friendly | NFI Sky Boys - Future Dream FC | 09.04.2022 15:00 | KUmba | 2 - 4 |
| Sky Boys Friendly Game | Kumba City Council FC - NFI Sky Boys | 31.03.2022 15:00 | GPS Field Kumba | 0 - 0 |
| Sky Boys Friendly Game | Nemfa FC - NFI Sky Boys | 20.03.2022 15:00 | Kumba | 1 - 5 |
| Pre-Season preparation tournament | NFI Sky Boys - Future Dream FC | 02.03.2022 15:00 | GPS Field Kumba | 1 - 1 |
| Pre-Season preparation tournament | Kumba City Council FC - NFi Sky Boys | 23.02.2022 15:00 | GPS Field Kumba | 3 - 0 |
| New Dawn Pre-season tournament | Kumba City Council FC - NFI Kumba | 13.02.2022 15:00 | GPS Field | 1 - 0 |
| South West Mini Interpools | NFI Kumba - LIFCA FC Limbe | 31.07.2021 00:00 | Limbe | 1 - 6 |
| South West Mini Interpools | CINYODEV FA Buea - NFI Kumba | 28.07.2021 00:00 | Limbe | 4 - 1 |
| South West Mini Interpools | NFI Kumba - Tiko United FC | 25.07.2021 13:00 | Limbe | 0 - 2 |
| Division 2 Regional League | NFI Sky Boys - Bau Manibok FC | 10.06.2021 15:00 | GPS Field | 8 - 0 |
| Division 2 Regional League (Day 8) | NFI Sky Boys - NEMFA Nguti | 06.06.2021 15:00 | GPS Field | 1 - 2 |
| Division 2 Regional League (Day 6) | Kumba Lakers FC - NFI Sky Boys | 30.05.2021 15:00 | GPS Field | 1 - 0* |
| Division 2 Regional League (Day 5) | NFI Sky Boys - Future Dreams FC | 23.05.2021 15:30 | GPS Field | 1 - 0 |
| Division 2 Regional League (Day 4) | NEMFA FC - NFI Sky Boys | 27.03.2021 15:29 | Municipal Stadium | 0 - 4 |
| Division 2 Regional League (Day 3) | Bau Manibok FC - NFI Kumba | 21.03.2021 13:30 | Kumba Municipal | 1 - 2 |
| Division 2 Regional League (Day 2) | NFI Sky Boys - Kumba Lakers FC | 14.03.2021 15:30 | Kumba Municipal Std | 1 - 2 |
| Cup of Cameroon - Round 2 | NFI Sky Boys - NEMFA FC Nguti | 10.03.2021 13:30 | GPS Field Kumba | 0 - 1 |
| Cameroon Cup Round 1 | NFI Sky Boys - Legends FC | 28.02.2021 11:00 | GPS Field Kumba | 2 - 0 |
| Division 2 Regional League (Day 1) | Future Dream - Nkamanyi Football Initiative | 20.12.2020 15:30 | GPS Field Kumba | 0 - 1 |
| Pre-season Limbe Tournament | Option Sports - NFI Sky Boys | 25.10.2020 13:00 | Limbe | 3 - 2 |
| Pre-season Limbe Tournament | NFI Sky Boys - Destiny | 24.10.2020 13:00 | Limbe | 2 - 1 |
| Pre-season Limbe Tournament | Best Stars FC - NFI Sky Boys | 23.10.2020 13:00 | Limbe | 1 - 0 |
| Friendly Game in Douala | Dream Team Douala - NFI Sky Boys | 17.09.2020 08:00 | Douala | 2 - 1 |
---
Join Us

Latest News
Games / Results
Register
NFI SKY BOYS
OUR TRAINERS
Our Partners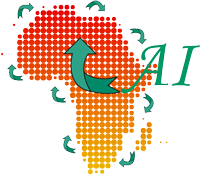 Support Actions
NFI @Twitter
Tweets by @nkamanyifoot