[19/12/2020] - NFI to kickoff regional division 2 league against Future Dream FC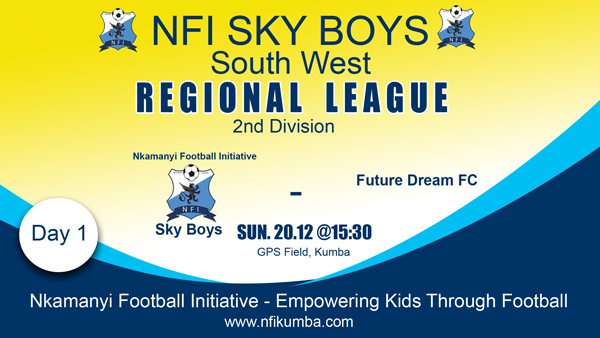 The Nkamanyi Football Initiative's A Team, the SKY BOYS, shall kick off the 2020/2021 regional division 2 league on Sunday December 20th 2020 against Future Dream FC.

The Sky Boys are in the Kumba Zone (Pool E) of the league with Bau Manibok FC, Future Dreams FC, Kumba lakers FC and Nemfa FC.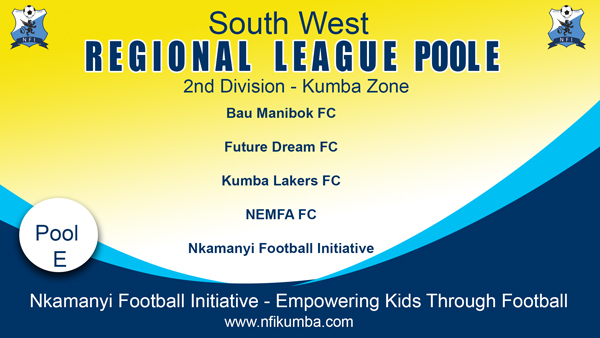 The pools of the SW Regional League have have been distributed as such:
Pool A: Cinyodev FA; H.O Academy; Mount Cameroon FC and Prisons Buea.
Pool B: Buea United FC; Catholic University SA; Dynamic FC and the University of Buea FC.
Pool C: Future Stars SA (FUSSA); Iles of Hope SA (ISHOHSA); Limbe Football Association (LIFCA), and Njalla Quan SA (NQSA).
Pool D: Best Stars Academy; Option Sports, and Victoria United FC
Pool E: Bau Manibok FC; Future Dreams FC; Kumba Lakers FC; NEMFA, and Nkamanyi Football Initiative.
Pool F: Ajax FC Likomba; Eteki Esoh Memorial SA (EEMSA); Little Foot FC; Tiko United FC, and Treviso FC.
more
---
[13/12/2020] - NFI U18 team arrives Limbe ahead of International Youth Tournament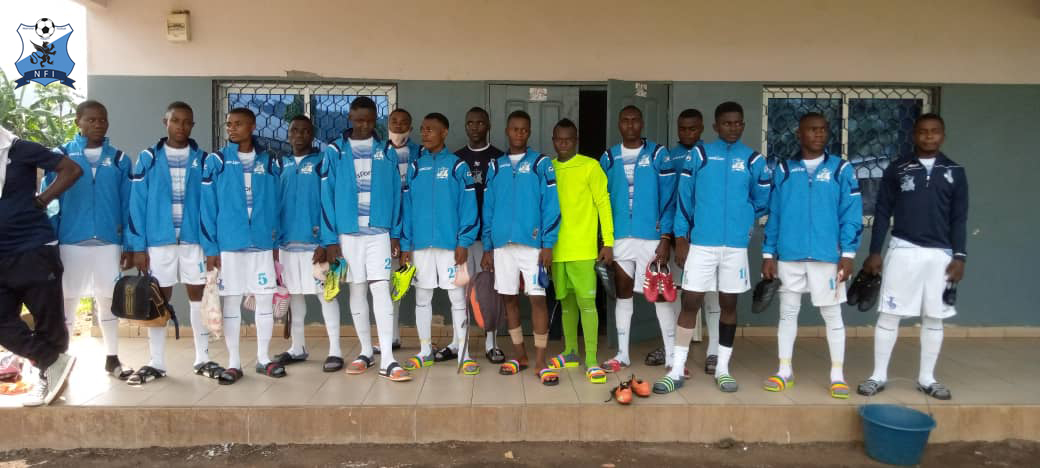 The Nkamanyi Football Initiative's U18 team lead by its president, Terence Nkamanyi arrived the garden city of Limbe today Sunday December 13 ahead of games for the International U18 Youth tournament. An 18-man team accompanied by the Secretary General (Takang Dekelly), Youth Department head (Ndoke) and U18 Trainer Ashu Tong.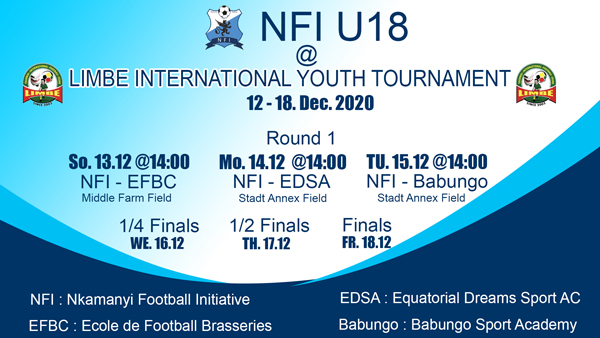 In its first game, the NFI will take on tournament organizer, the EFBC ( Brasseries Football School) this same Sunday at 11:45. Other games are scheduled every day until Tuesday. Quarter finals, semi finals and finals are scheduled for Wednesday, Thursday and Friday respectively.
---
[26/11/2020] - Suspension of participation in the Amputee Football League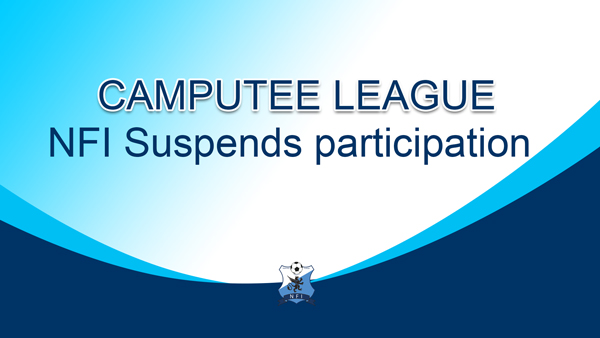 After the interruption of the first "National Amputee Football League" competition while the Nkamanyi Amputee team was already on the pitch in Yaoundé, about to take on Terminators AFC of Yaoundé, we have had to do an internal reflection and evaluation about our further participation. While it is unclear to us how the competition is scheduled and covered, we realize there are a couple of things that need to be put in place before we continue the games.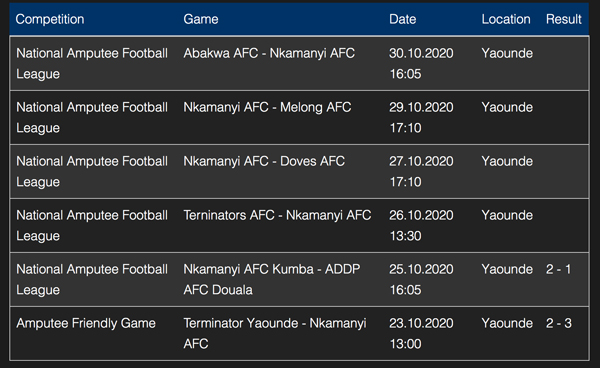 It is important for the public and all stakeholders to understand what we stand for and what not. Our aim is not to win games. Our aim is not to be the best team. Our aim is not to attend great competitions. We are not in a rush. Our aim is to empower kids through football. We want to use football as a means of empowering the amputees to be able to lead a normal life. We have already talked to the players and know how they intend to see their lives. What we are doing now is evaluating and developing plans to see this happen. We want to concentrate our efforts on that.
We shall continue the competition when conditions are OK. Read more
---
[12/11/2020] - Ashu Tong, Morimi Michael and Ndoke take over as new Sky Boys Management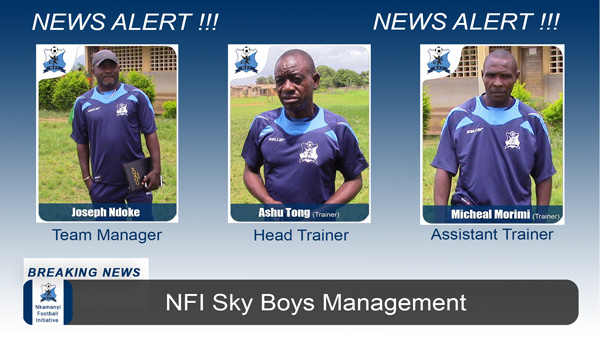 As from November 11, 2020 Ndoke Joseph will serve as new Sky Boys Manager (interim) in addition to his position as assistant Technical director and head of the youth department.

Ashu Tong and Morimi Michael, respectively trainer and assistant trainer of the U17 team will be the new trainer and assistant of the Sky Boys.

This move follows the immediate replacement, just after less than 2 months, of John Chia as manager of the Sky Boys Team.

We wish the trio all the best in ensuring a smooth start and great season for the Sky Boys.




---
[11/11/2020] - NFI replaces coach John Chia after after just over a month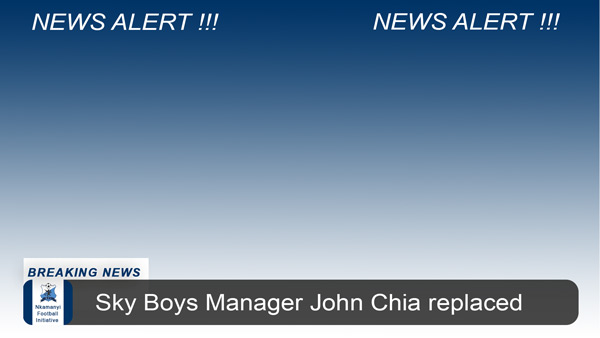 The Nkamanyi Football Initiative, today 11th. of November ended its cooperation with John Chia as team manager of the NFI A Team ( The Sky Boys). This announcement was made known to him in person in the Board meeting held with the A team staff in the NFI office. He shall be replaced by former head coach Joseph Ndoke as interim manager.

Veteran footballer and U17 trainer Ashu Tong shall take over as new Sky Boys head coach, while his assistant Morimi Michael will accompany him as assistant too.

The cooperation with John Chia was stopped after we recognised a serious unwillingness to understand the NFI philosophy and the introduction of unrest within the Sky Boys team.

We wish John all the best in his further endeavours.




---
View archived information