NFI to kickoff regional division 2 league against Future Dream FC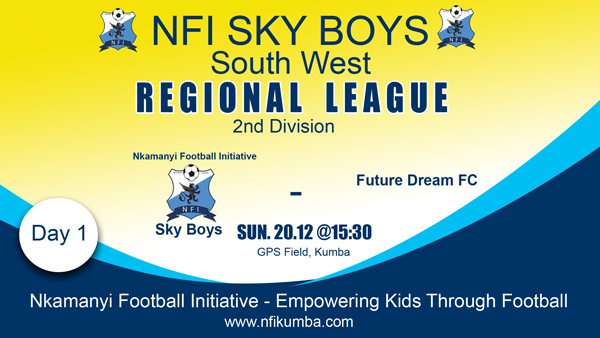 The Nkamanyi Football Initiative's A Team, the SKY BOYS, shall kick off the 2020/2021 regional division 2 league on Sunday December 20th 2020 against Future Dream FC.
The Sky Boys are in the Kumba Zone (Pool E) of the league with Bau Manibok FC, Future Dreams FC, Kumba lakers FC and Nemfa FC.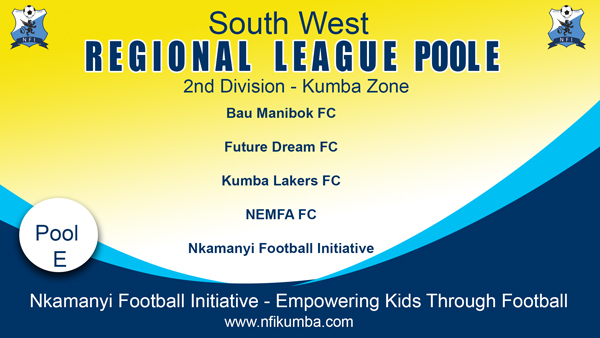 The pools of the SW Regional League have have been distributed as such:
Pool A: Cinyodev FA; H.O Academy; Mount Cameroon FC and Prisons Buea.
Pool B: Buea United FC; Catholic University SA; Dynamic FC and the University of Buea FC.
Pool C: Future Stars SA (FUSSA); Iles of Hope SA (ISHOHSA); Limbe Football Association (LIFCA), and Njalla Quan SA (NQSA).
Pool D: Best Stars Academy; Option Sports, and Victoria United FC
Pool E: Bau Manibok FC; Future Dreams FC; Kumba Lakers FC; NEMFA, and Nkamanyi Football Initiative.
Pool F: Ajax FC Likomba; Eteki Esoh Memorial SA (EEMSA); Little Foot FC; Tiko United FC, and Treviso FC.