NFI AFC Kumba defeats ADDP AFC Douala in first match of Amputee championship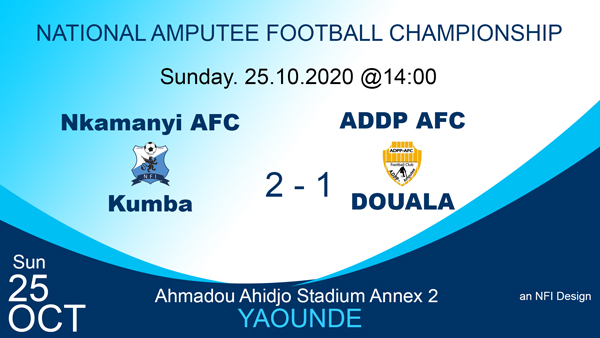 On Sunday 25. October 2020, the Nkamanyi AFC amputee team defeated ADDP AFC of Douala by 2-0. The match started under rainy conditions at exactly 3:30pm in the Ahmadou Ahidjo Stadium annex 2 in Yaounde.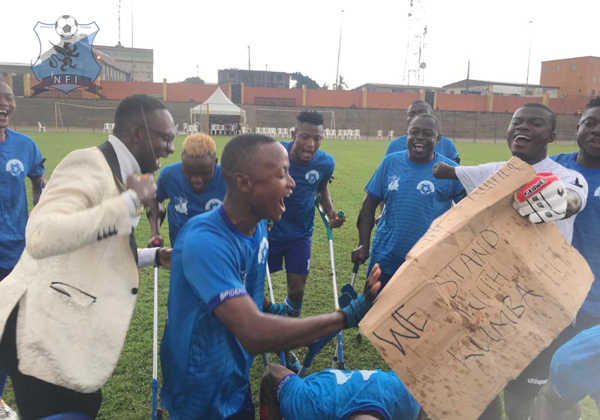 It was a clean and fair play match without any arrogant behavior from both teams. The NFI AFC was so talented with their playing tactics and the ADPP could not keep pace with what the Nkamanyi boys put up in the field.
At 11 minutes into play, Nkeng Lesly scored through an assist from captain Joel Ndifor. At the 23rd minute Joel Ndifor increased scores to 2 - 0 through a spectacular free-kick from the far-right side that found its way through the players into the net. In the second half, the ADDP reduced scores to 2-1. The game ended with this score. It would mark the first victory of the NFI AFC in its first game of this pioneer Amputee National Championship. Ndifor Joel of the Nkamanyi AFC was voted man of the match. After the game, he was interviewed by media houses CRTV and STV.
The Nkamanyi AFC dedicated the game to the victims of the Kumba massacre that had happened the day before in which unknown gun men killed school children in school. The crowd joined the players in the field to say no to the killings in Kumba, expressing the rights for children to go to school.
Coach Forba Jean applauded the team for a good and fair play. The captain equally spoke about the determination of the NFI Amputees Football Club towards this event.
---
Some pictures of the game
---
Some videos of the game