(Day 5) report - NFI Sky Boys - Legend FA
Status :
Ended

| Result :

2 - 2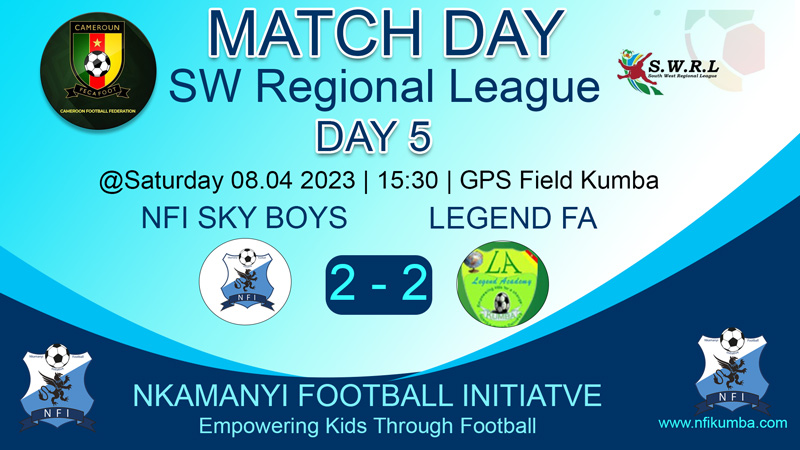 With a win in day 1, followed by draws in day 2 and 3, the NFI Sky Boys came back strongly in day 4 witha 4-0 win over Jesus FC and assumed position 2 again in the league. With this momentum, the NFI itends to grab the next three points by beating Legend FA.
Let us see how it goes this Saturday , April 08 at the GPS field in Kumba.
---
Match statistics
17:23 : End of match
17:22 : NFI conceives a goal.
17:09 : Wirkom Micheal strikes at the bar.
16:58 : Yellow card Samuel Bikoe
16:56 : Gooooooooooal. Goal by Rones Hilton and yellow card given for Jersey removal.
16:48 : Goooooooooaal. Goal by TIta Stiphone
16:47 : Penalty awarded to NFI Sky Boys after Tita Stephone was kicked in the penalty ring.
16:44 : Signs of rainfall.
16:35 : Secound half start.
14:25 : Half time (0 -1)
16:18 : Goal against NFI after Wako Desmond stopped the penalty and was scored by a rebound
16:16 : Penalty for Legend FA.
16:11 : Ndumabi oyah Inn and Nji Bame out
16:02 : An action by Wirkom Micheal but fruitless.
15:51 : NFI 0 vs 0 Legend FA
15:35 : Start of match NFI vs legend fc
13:40 : NFI sky boys departure for GPS field.
11:50 : Technical meeting by coach Ndoke Joseph and coach Ashu Tong with NFI Boys.
11:30 : Arrival of Catering services responsible for feeding the sky boys.
10:50 : Arrival of NFI Sky Boys at the camping ground.
---
To qualify for the mini interpools and eventually the national interpools, the NFI Sky Boys would have to occupy at least the second position in a league which pits them against the following competitors - Kumba City FC, Kumba Lakers FC, Furture Dream FC, NEMFA Nguti, Legend FC and Bright Star FC.
---
The line up for the game
Starting 11
Goalkeeper
Defenders
Midfielders
Attackers
Trainers
Medical Team
Dr. Ikoe Lord Itoe
Ebika Henry
---
Some pictures of the game