Nkamanyi Football Initiative - 2015 tournaments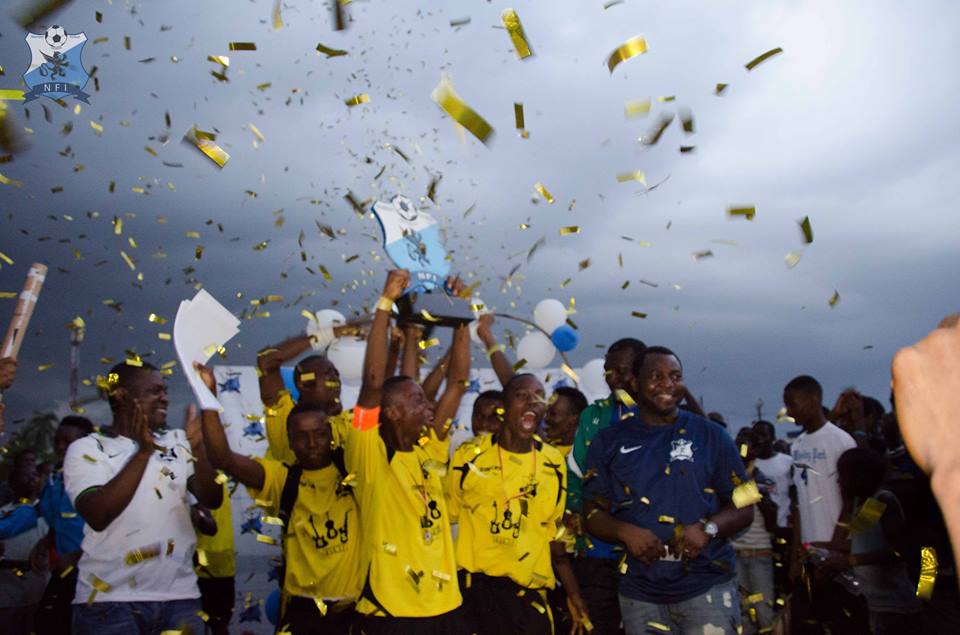 The second edition of the Nkamanyi Football Initiative Under 14 Tournament took place from Sunday the 8th. of November 2015 till Sunday the 3rd of April 2016 at different locations in Kumba ( SHS, Saker, CCC and PS Fields). 12 under-14 teams participated in this year's edition. This was a pioneer event. It took the form of a league and was the first of its kind in the town.
This event which was jointly organized with the African Impulse e.V. and with complete involvement of the Meme Youths Coaches association saw over 250 young children participating. A highlight was the "Easter Holidays Youth Camp", which had a great forum with many stakeholders attending. The forum was such a success with over 500 participants.
The peak of the 2015/2016 pioneer NFI trounament was reached on Sunday 03.04.2016 in a tough contested final between Brescia FC and Athletic of Balangi. They played over 70 games since November 8, 2015. Out of 12 Under 14 teams, Brescia FC was able to secure the Final trophy for itself. All 12 teams received trophies, certificates and cash prizes. All trainers received tracksuits, sponsored by Enow Solo. The first 4 teams received jersey sets sponsored by Donwelsystems, BBSEventz, Edmond Ihande and Christopher Younti. Medals were awarded to the best two teams, referees and trainers. The best player, man of the match, highest goal scorer, youngest player, best goalkeeper, best coach and fair play team all received trophies and certificates in addition to mobile phones supplied by our sponsor MTN. V-Blues entertained the crowd with the NFI song. The final award left the crowd thinking they were watching the champions league on TV. The Brasseries du Cameroon(SABC) was very instrumental in making the forum a great success. THANK YOU ALL.
Find pictures here
Games statistics
---


2017/2018 | 2016/2017 | 2015/2016 | 2014/2015